Favourite Movie with Cachetejack
Tell me about your favorite movie and how you came up with the idea for your Drip For Drip cup: We wanted to find a film which both of us remember from our childhood and it was a bit difficult find it cause when you think about cinema there are so many options! Finally we chose The Mask cause it is colorful and crazy and it fits our idea of drinking a refreshing cold coffee full of caffeine!
What other movies are in your top 5? So difficult! Some good movies we like are: Oldboy, Paris Texas, Taxi Driver, One Flew Over The Cuckoo's Nest (or any Jack Nicholson movie – The Shining, Easy Rider) Some mafia movies... Too many to choose!
The Mask (1994), Cachetejack
Stand By Me (1986), Wijtze Valkema

Coffee: Arabica or Robusta? Mostly arabica.
How do you drink your coffee? Coffee lovers will hate this, but Cachetejack is two people – one loves coffee with a bit of milk and the other one doesn't drink coffee at all!
What is your favorite coffee shop? Any where the coffee won't be water and tastes intense.
Anything interesting projects coming up? We are currently working on some editorial commissions for magazines and also preparing some new personal short publications.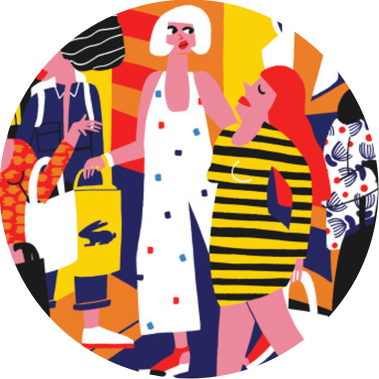 Cachetejack
Cachetejackis an illustrator duo from Spain. Their work is bright, wild, bold, crazy and very catchy which is why they've been hired by international brands, festivals, editorial clients whilst always putting out personal work as well. Their work can be chaotic and messy and at other times be very iconic and isolated, clean even. Cachetejack never gets boring and we can't wait to see the next project they bring into the world.