Valentine's Day edition with David McMillan

Can you tell me a little bit about your artwork for this edition of Drip For Drip?
I went straight for the stereotypical image of Cupid for my design. I thought there could be something funny in it, and as I read more about the story of Cupid and Psyche and saw the classical paintings of them I knew that was something I could play with. I'm not the biggest fan of Renaissance art, but that style of painting with it's swooning nude woman and grand angel figures has these great shapes and poses that I wanted to try and translate in my style. And of course, they are now meeting each other via a dating app.
How do you drink your coffee?
Black, but not too strong. I have an aeropress in the studio so enjoy that routine of making a cup of coffee before I start into my work.
Do you have a favourite coffeeshop?
There is a bike cafe in Bristol called Roll for the Soul that we always make sure to go to. It has a really nice vibe inside, and their food is amazing. It's always good for a catch-up coffee and some occasional drawing. In Berlin I loved Five Elephants for their coffee and cheesecake. If I can get a good cup of coffee and a good pastry or cake I'm sold!
Any interesting events coming up?
I'm currently working on a coffee map of Belfast through my agency, UsFolk. So it'll be great to share that soon and show off all the amazing coffee shops you can get visit in the city.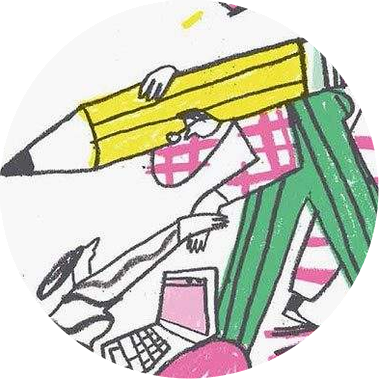 David McMillan

Styles don't get much more loose and organic than David's textured pencil lines and colour fills. So much happens within compositions that look like roughs rather than finished pieces. It is as if we're invited to watch over his shoulder to see his work in progress. The power of his artwork lies in the composition and concept which David nails time after time. David makes it looks easy, but we all know it's not.